The New SilencerCo Gas Defeating Charging Handle
We at SilencerCo are excited to announce the release of our new Gas Defeating Charging Handle (GDCH), which significantly redirects the blow back of gas associated with shooting AR-15 platforms. Compared to similar products on the market, the SilencerCo Charging Handle has a unique attribute: it actually works!
The GDCH has a proprietary design feature that incorporates an O-ring seal to prevent gas from escaping from the most prominent point of egress. This seal mitigates the amount of gas that is blown back into the shooter's face, creating a more comfortable and enjoyable shooting experience.
Check out the Release Video
In addition to significantly redirecting blow back, the GDCH offers ambidextrous levers for a smooth process when charging or clearing a rifle. It is completely manufactured in-house and is machined from aircraft-grade 7075 aluminum. Shooters can utilize the GDCH with all common chamberings for the AR-15 platform.
"It's been a long time since we have seen a product that so greatly improves the user experience while shooting the AR platform suppressed," said Product Manager, Andrew Herbst. "Now shooters don't have to choose between protecting their hearing and dealing with hot gas blowing into their eyes and affecting their ability to breathe. The silencerCo Gas Defeating Charging Handle is the answer to this common problem."
The GDCH has an MSRP of $114.00 and is available through the SilencerCo webstore and at local dealers. It will be shipped with one O-ring already installed and one spare.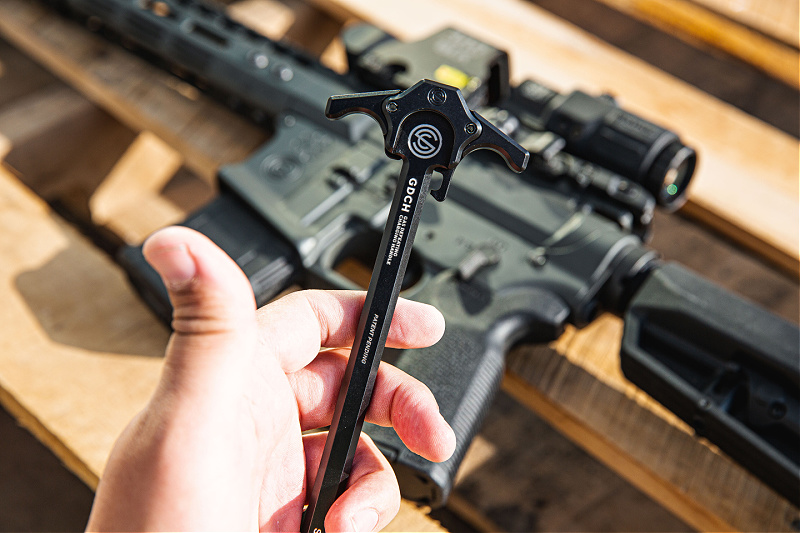 Charging Handle Specifications
Uses an O-ring seal to redirect blow back
Machined from aircraft grade 7075 aluminum
Type III Hard Anodize finish
Features ambidextrous design for intuitive manipulation and smooth charging
MSRP of $114.00
For more information on the Gas Defeating Charging Handle, click here to view the product page. Ready to buy? Check out the SilencerCo Shop – The Gas Defeating Charging Handle is available to buy now: