SilencerCo: On a Mission To Do It Better
SilencerCo: On a Mission To Do It Better
SilencerCo is on a mission. A mission to do it better. Do what better? Good question. Let's look at that. First and foremost, SilencerCo strives to make better suppressors and suppressor accessories. That's fine, but one could easily say the same for many companies who make quality products. What matters here is how SilencerCo does it.
SilencerCo lives by what they call "The Three Ps," People, Passion, and Precision. The Three Ps are the road map to accomplish their mission of doing it better. Let's break down how that philosophy works.
We often hear companies say that they put the customer first. A common customer service maxim says that "the customer is always right," even though any honest person knows that's untrue. SilencerCo takes a somewhat different approach to outstanding customer service: they put their employees first.
The idea is that happy employees, people who genuinely like, or even love, their jobs, will strive to do their best every day. That means better, more consistent product lines, more innovation, faster, friendlier service, and a great experience for everyone involved. In short, people who take pride in their work want to do things the right way. Everyone wins. That's what SilencerCo aims for every day.
So, how do they do that? After all, a job is a job, and most folks would rather be doing other things. We've all been there. SilencerCo recognizes all that but continues to take steps toward improving their employees' experience. Let's look at a few of those.
SilencerCo is investing heavily in robotics to aid the manufacturing process. Usually, automation means real people lose their jobs because they've been replaced. Not so at SilencerCo. Founder and CEO Jonathan Shults told us that "By introducing higher levels of automation into our production processes we are creating greater efficiency for our company and more enjoyable jobs for our employees. We are automating the parts of manufacturing that are mundane and tedious. Employees will work in conjunction with these new automations in a way that allows them to spend more time on creative and high-level tasks."
This shift has been augmented by training SilencerCo's employees to monitor the robots doing the tedious jobs they used to do themselves. The employees gain new skills and quality control gets a boost because of the constant human monitoring of the new machines. The company has invested so heavily that the production floor is being rearranged to accommodate the new processes. But not one employee has lost their job because of it, and Shults says that none will. Better, more precise machines, coupled with better-skilled employees whose jobs are less tedious means superior products and happier customers.
Shults likes to say that "Time is time. Time is not money." Time is the one resource we all have that cannot be replaced or made up. Once it's gone, it's gone for good. "You cannot put a price tag on time," Shults said when asked about the subject. "It has so much more value than any amount someone can pay you. These new automations will give that valuable time back to our employees and our company, freeing up space to focus on growth and innovation."
SilencerCo is leveraging that regained time to understand not only how to make better products, but how the machines that make them can be improved. Shults told us that all the best machine tools are currently made in Japan, and that SilencerCo only buys from those companies. But thanks to Shults' emphasis on giving his employees their time back, the company has begun designing and building its own machines as well. Shults told us that designing those machines provides insights into how they can be improved and tailored to SilencerCo's products, resulting in even better output as the SilencerCo team learns and improves. Some of those in-house machines are already online on the production floor.
This was our second visit to SilencerCo, and both times we noticed the dogs. Dogs in the offices. Dogs in the hallways. Dogs on the production floor. How many companies not only allow you bring your dog to work, but actively encourage it? We'd bet that SilencerCo is one of a very few.
Obviously, not everyone is a dog person, but for those of us who are, that sounds like a great deal. And it goes back to employee well-being. Shults told us that "We love having a dog-friendly environment. It lowers stress levels and creates a fun space where people want to come to work. Our dogs are really part of our team!" He was excited about it. We get it. We were excited about it. The company even has a "Dog Station" with supplies folks might need for their canine pals. Good stuff.
We quickly noticed that the Three Ps, People, Passion, and Precision, overlap in many places. People who like their jobs find it easier to be passionate about what they do. That passion translates into quality work, quality products, and quality service.
But SilencerCo isn't just passionate about suppressors and their accessories. A giant American flag hangs conspicuously over the production floor. Monthly "All Hands" meetings are held directly underneath that flag. Each meeting starts with the Pledge of Allegiance.
And it's not just lip service. Shults and SilencerCo take that attitude seriously. "We source almost all of our materials within the United States and are working toward having everything 100 percent sourced in America," he told us proudly. "We want our business to support Americans on all levels: through the products that we sell and through the methods [by which] these products are made." He added that SilencerCo is currently the only suppressor company to do so.
The machinery and robotics investments also reflect the company's ideals. SilencerCo has long been the only suppressor company to manufacture all their products in-house, from start to finish. Shults showed us the bar stock and other components that go into SilencerCo products. When asked why this vertical integration was important, Shults told us that "By manufacturing our products in-house, we are actively bringing more jobs to the people of Utah. It also gives us the ability to control our products and thereby ensures that customers are receiving the very best that we can produce." Which brings us to…
It's not hard to see how SilencerCo's focus on People and Passion leads to the final "P," Precision. The company's people continue to perform at higher levels, generating more passion and pride in what they do. The dogs no doubt play a vital role here too, because dogs just make everything better.
SilencerCo has long been regarded as a leader in the suppressor industry, with products like the Saker, Omega, Chimera, and Harvester series, among others. They are continuing that legacy with the new Velos Low Back Pressure suppressor designed specifically for the 5.56 NATO/.223 Remington cartridges.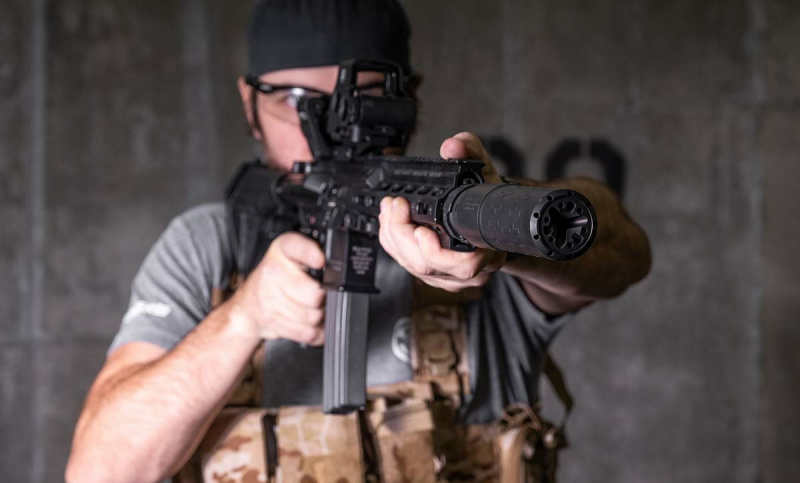 The Velos LPB takes advantage of SilencerCo's technology and people investments to make the most durable suppressor the company has ever made, thanks, in part, to the brand new patented Hoplon Blast Baffle. The Hoplon Baffle deflects debris and increases the suppressor's lifespan on short-barreled rifles and full-auto firearms. It handles a standard-length semi-auto rifle with ease. The Velos LBP measures only 5.98 inches long and weighs 15.2 ounces.
Another innovation is the 3D-printed Inconel 635 core which is fully welded to the 17-4 stainless steel front and rear modules. The Velos LBP delivers an impressive 137.1 decibels at the muzzle of a 16-inch barreled AR-15. Just for reference, 140 decibels is considered hearing safe.
The Velos LBP features V-Series Cerakote to ensure the finish holds up to hard use. The new suppressor is compatible with the already popular SilencerCo Charlie accessories and has no barrel length restrictions. It ships with the brand-new Internal Charlie Flash Hider Front Cap, Charlie ASR Mount, ASR Flash Hider in ½ x 28, a spanner wrench, and a Charlie tool. Coupled with SilencerCo's Gas Defeating Charging Handle, the Velos LBP may be the top AR-15 suppressor available today.
As always, SilencerCo backs up its products with perhaps the industry's best warranty. Shults laughingly told us that he believes so strongly in supporting SilencerCo's products that they've gone so far as to say "We'll fix stupid once."
When we pressed him on this he said "Being a consumer myself, I've experienced frustrations after purchasing a product and the manufacturer failing to provide support. That's why providing top notch customer service and support is so important to me and why we focus so heavily on customer service and warranty…Our warranty department is in-house, and we maintain an average 48-hour turnaround time on suppressor warranty or service requests."
So, the Three Ps come full circle back to People, with those People being SilencerCo's customers. We admit that Shults' confidence is contagious. It's difficult to visit with him at SilencerCo and not feel that positive energy.
SilencerCo's investments in new machine tools, robotics, and processes are ultimately investments in their people, as we've noted. Such efforts rarely go unrewarded, and SilencerCo's path forward appears surer than ever.
Employees who feel valued are more likely to take pride in their work. We once saw pride, as used in this instance, defined as "always doing your best, even when no one is watching." Jonathan Shults and SilencerCo are building that kind of environment, which benefits not only the company and its employees, but the end user as well.
Some of the best advice we ever received regarding firearms and accessories was to "buy from companies who give a damn about their customers." After spending time with Shults and other SilencerCo folks like Shauna Young, Caleb Gosnell, Cody Wootton, and Jace LeRoy, we're convinced that SilencerCo is one of those companies.
But that's always been the plan. Shults and his partner Josh Waldron started SilencerCo in a garage because they thought they could "do it better." Fifteen years later, that small business with a simple but big dream is a reality. SilencerCo does it better than, or at least as well as, anyone else. But they aren't waiting around for anyone else to catch up.