SilencerCo Mounting Systems
SilencerCo Mounting Systems
The suppressor market is bigger and better than ever before. Shooters and hunters are learning about and embracing the advantages of suppressing their favorite blasters, and the industry has stepped up with ever more choices and higher quality. As suppressors become more popular, selecting the right mounting system is more imperative than ever.
What's a mounting system? Don't you just screw the suppressor onto the barrel and blast away like in the movies? Well, not exactly. Some muzzle devices do attach directly to the barrel, but many do not. That means you need the proper accessories for your device to fit and perform properly.
Let's look briefly at SilencerCo mounting systems to help you identify what works best for your needs.
Choose Your Suppressor or Muzzle Device
SilencerCo mounting systems are tailored to specific products or specifications. Until you know those specifications, you can't select the mount. Some suppressors are compatible with multiple systems, so you can choose whatever fits your needs.
For example, the SilencerCo Hybrid 46M suppressor works with the Active Spring Retention (ASR) mount, Charlie direct thread, piston mount, or 3-lug mount. It depends on what you want and need.
SilencerCo Mounting Systems - Categories
SilencerCo really makes it easy to select your mount or mounting system. It's so easy that even I can do it, and that's saying something. Each muzzle device, be it a suppressor, muzzle brake, flash hider, or whatever, conforms to one of seven mounting categories, Alpha, Bravo, Charlie, Delta, Echo, Piston, or 3-Lug.
The SilencerCo website is cross-indexed in compatibility, so each product page tells you exactly what mounting system you need for your device. Likewise, each system page includes a list of compatible devices. It really is very simple.
Each category has a number of products included. For instance, the Charlie category includes the following:
ASR Mount
Direct Thread Mount
Piston Mount
Front Cap
Flash Hider Front Cap
Muzzle Brake
Bravo and Charlie
Spanner Tool
Charlie Multi Tool
So, returning to our previous example, the Hybrid 46M suppressor is compatible with Charlie, ASR, Piston, and 3-Lug mounts. I know that because the Hybrid 46M product page tells me so. So, there's no chance I'll buy the wrong stuff for my suppressor.
If I want a SilencerCo suppressor that works with a Charlie Direct Thread Mount, that product's page tells me that I can choose from the Omega 36M, Chimera 300, Hybrid 46M, Velos LBP, and Saker series suppressors. It also tells me which thread pitches are available for that mount, along with the SKU number.
The Active Spring Retention (ASR) Mount is SilencerCo's proprietary quick attach/detach center fire rifle suppressor mounting system. It is designed to prevent the suppressor from backing off during normal use due to shock and vibration caused by firing and transport through a secondary locking collar. It requires a compatible muzzle device, such as a muzzle brake or flash hider. The suppressor fits over that device. Shims are included with muzzle brakes for any additional indexing that may be required.
Thread the ASR flash hider or muzzle brake onto the mount.
Employ the shims, if necessary, for a muzzle brake. ASR flash hiders do not require shims.
Tighten the device onto the barrel with the included tools. Wrench flats are machined into the devices for easy manipulation.
Install the tapered insert into the suppressor body.
Thread the ASR mount onto the insert.
Use the included tools to tighten the ASR mount. Make certain the ASR collar is unlocked.
Slide the back of the suppressor onto the muzzle device until it is firmly seated against the shoulder.
Rotate the ASR collar to the locked position.
You are now ready to use your suppressor. The entire assembly can be removed by reversing the steps
The ASR System provides a secure base for your suppressor, ensuring that no damage results from instability. The ASR System is not necessary, compatible, or even desirable in all cases, such as handguns. But it's hard to beat for a stable center fire rifle mounting system.
Piston and 3-Lug Mounting Systems
Pistons are for mounting suppressors onto center fire handguns, pistol caliber carbines or sub guns. They can also be used for subsonic .300 Blackout loads. SilencerCo pistons are designed to easily change between firearms or calibers.
The piston is part of the Nielson device that moves and allows semi-auto pistols to cycle and unlock the barrel. Fixed barrels are accommodated through a Fixed Barrel Spacer. XL pistons are available for firearms requiring extra length between the threaded barrel and the suppressor.
The 3-Lug Mount is a quick attach/detach option for pistol caliber carbines or sub guns. The 3-Lug can also be used for subsonic .300 Blackout. 3-Lug Mounts require 3-Lug muzzle devices to work properly. They are available in 9mm or .45 caliber. The .45 caliber 3-Lug Mounts are made to B&T specifications.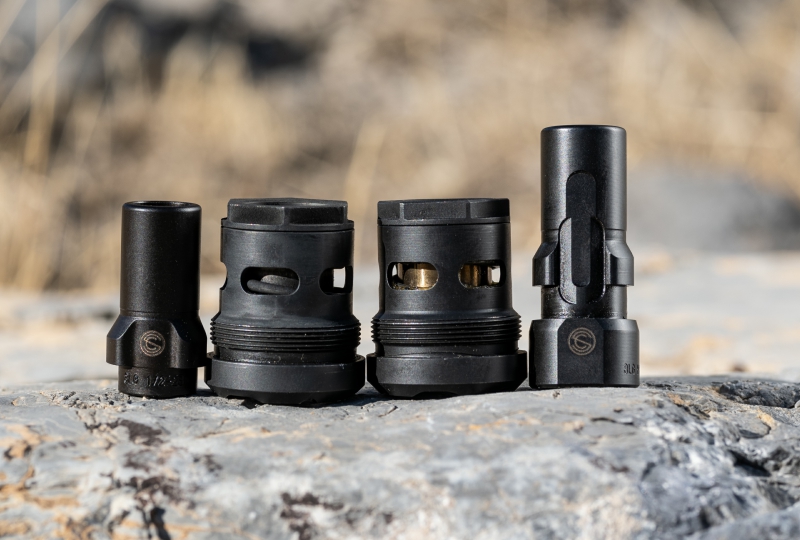 Neither the piston nor the 3-Lug mounts should be used on higher powered rifles. They aren't designed for that, and it will damage them and your suppressor.
A Plethora of Mounting Options
So, SilencerCo doesn't just make suppressors. They also have you covered with all the accessories you might want or need. Chief among those are the many SilencerCo mounting systems designed to fit all their suppressors across many firearms platforms.
Let's face it, suppressors aren't cheap. A proper mount will help prolong a suppressor's life and protect it from damage. I recently saw a suppressor fly off the end of a guy's rifle at the range. Not good. Quality mounts will prevent failures like that. And buying your mounts and other accessories from the same place that built your suppressor ensures smooth compatibility and easy use. SilencerCo has you covered on that. Do yourself, and your suppressors, a favor and check out all of the SilencerCo mounting systems.
Looking for specific information on how to mount to your suppressor? Check out the SilencerCo How To YouTube videos for all SilencerCo suppressors. The guides walk you through everything you need to know to mount your suppressors.