Scythe-Ti All-Titanium Suppressor: Setting a New Standard
In August, SilencerCo launched a groundbreaking all-titanium suppressor, the Scythe-Ti, and it didn't take long for it to garner significant attention and acclaim from professionals and enthusiasts alike. Its innovative design and use of cutting-edge materials have set a new standard for rifle-caliber sound suppressors.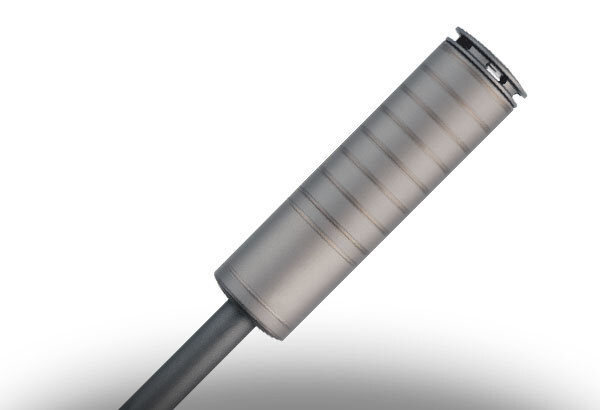 The Scythe-Ti is a top-notch .30 caliber silencer that's impressively lightweight and compact: the body of the suppressor weighs a little over six ounces and measures just under six inches. And, it is impressively versatile, with no restrictions on barrel length and a rating that covers calibers from .223 REM / 5.56 NATO all the way up to .300 RUM.
Now, you might wonder, why choose a titanium suppressor?
Well, titanium offers a plethora of advantages. SilencerCo Product Manager, Andrew Herbst, sums it up nicely, stating, "Not only is it incredibly lightweight, but it also cools down much faster than steel, making it easier to handle after shooting. Plus, it has that sleek aesthetic appeal."
And it performs, too. The unique quality that sets the Scythe-Ti apart from other suppressors in its class is its remarkable ability to suppress sound without compromising on its featherlight design. 
In fact, in terms of sound performance, the Scythe-Ti excels with 6.5 Creedmoor, 6.5 PRC, .300WM, and .300 BLK calibers. When paired with the SilencerCo ASR Mount, it stands as the quietest suppressor ever tested by SilencerCo on .300 WM.
The Scythe-Ti takes sleek to the next level with a range of impressive features, including:
Type II Anodize finish coated with oil, ensuring durability and resistance to chipping or flaking.
New single-port anchor brake offers enhanced recoil reduction while maintaining a compact size.
Equipped with a custom titanium direct thread mount in 5/8 x 24, keeping the overall weight impressively low.
Wrench flats have been replaced with a special tool that threads onto the top of the suppressor for easy detachment. It is anodized both on the inside and outside to reduce sparking commonly associated with titanium.
Pairs with Bravo accessories and mounting systems.
What are people saying about the Scythe-Ti?
Professionals and enthusiasts from the shooting industry have responded to the Scythe-Ti with enthusiasm.
Author Will Dabbs gives the Scythe-Ti his blazing endorsement in his GunsAmerica review, "The SilencerCo Scythe-Ti: The High-Tech Sound Suppressor for the Information Age."
The new SilencerCo Scythe-Ti is arguably the most advanced rifle-caliber sound suppressor in the world. The Scythe-Ti represents a mystical synergistic melding of cutting-edge suppressor design with state-of-the-art materials science. Short, lightweight, rugged, and effective, the Scythe-Ti makes your target shooting more neighborly, your hunt more productive, and your home defense carbine more effective. There are upwards of three million sound suppressors in the NFRTR (National Firearms Registry and Transfer Record). This is the top of the freaking heap.
He goes on to say that the Scythe-Ti offers outsized performance with minimal weight and length penalties. "This is one seriously stalwart sound suppressor."
In the video below, GunsAmerica runs the Scythe-Ti on a SIG MCX Rattler SBR. 
The Firearm Blog also covered the Scythe-Ti. First they shared a press release on their website, which was followed up with some intense range-time with the suppressor. They shot the Scythe-Ti on a multitude of host platforms in various calibers and then posted their full video review on their YouTube channel TFB TV.
Watch the video below to see what the suppressor sounds like with each caliber they tested it out with.
Jeremy S. from The Truth About Guns wrote his review after visiting the SilencerCo facility in Utah. In "Hands-On With the New SilencerCo Scythe-Ti 100% Titanium Rifle Suppressor," Jeremy notes a huge change in the production floor from his previous visit five years ago. "I walked their shop floor almost exactly five years ago, and man has it grown… The absolutely massive manufacturing floor is full of extremely high-tech CNC milling centers, lathes, pallet switching machines, scrap recycling facilities, raw materials processing equipment, and much more."
He also points out that SilencerCo installed a brand new anodizing line specifically for titanium, as part of the Scythe-Ti launch.
At the range, Jeremy was able to experience the Scythe-Ti at nine shooting stations, each with a different style of firearm in a different chambering. This included both semi-auto and bolt-action guns with varying barrel lengths and operating systems. Here's what he had to say afterward:
…this is absolutely a top-performing silencer in terms of sound suppression performance and pleasing tone. Some titanium suppressors can tend to have a higher-pitched, tinny sound compared to steel suppressors, but that wasn't the case here. The Scythe-Ti sounds very solid.
GUNS.com also has some noteworthy insights in their review of the Scythe-Ti. The lightweight nature of the suppressor is just one of the benefits highlighted in "New: SilencerCo Scythe All-Titanium 30 Cal Suppressor." 
Remember, the Scythe-Ti weighs just 7.3 ounces with the single-port anchor brake installed. The article illustrates it like this, "To get a feel for just how light that is, it's about the same as an adult hamster, a cup of sugar, or a roll of nickels."
They also call out the durability of the Scythe-Ti. "We asked a company engineer about lifespan, and he stressed that he would be surprised if someone was able to shoot one of these suppressors out as they have several test cans with tens of thousands of rounds sent through them. Even if they do wear one out, it is covered by a lifetime warranty and constructed so that the serialized base can be removed, and a new suppressor be rebuilt around it." 
The Scythe-Ti is not just a remarkable addition to SilencerCo's lineup; it represents a game-changing advancement in the world of firearm accessories.